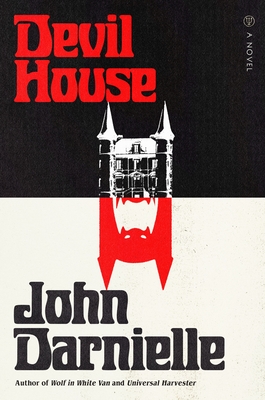 I'm not sure what this is going to turn out to be–regular thing or an occasional blog? Book blog? Art blog? Online journal? Something to pass the time in retirement? Maybe it will just be this one entry and $18 spent on a domain name I thought would be clever and an activity to justify sitting around in local coffee shops.
In any case, here goes.
Last week I finished reading Devil House by John Darnielle. It left me with things to say, thoughts I wanted to process with other readers. Because it's part of this year's Camp Tournament of Books, I went on their discord server excited to see what other readers had to say about it.
They didn't like it. Most not at all. Some of them were vociferous in their discontent to say the least and still use 50-cent words.
I was disappointed to, but there was really no one for me to discuss the book with. There was one commentor who explained how each section of the book was a version of the same story, which I found eye-opening. I'd missed that completely, too caught up in the crime drama. But he was scared off, I guess, by the subsequent comments from the book's detreactors
Since I stopped book blogging altogether, and, yes, deleted my long-running blog Ready When You Are, C.B., the one thing I missed was having the opportunity to work through my reactions to my reading in this semi-public forum. I only missed it once in a while, so this may turn out to be a very occasional blog, cut I did sometimes thing about restarting it.
Now, I'm retired and have a lot of time on my hands. I'm spending a good number of hours in my studio/garage making things, a nice chunk of time every other day reading things not for school/work, making bread again, binge-watching, some doom-scrolling on social media. It's nice, but….
So, here I am, typing this up on my kitchen table, wondering what I am doing here and realizing that I haven't said anything about the book yet, thinking I'm probably not going to. Sorry.
I do have Hernan Diaz' book Trust which is also on the Booker Prize long list this year. I'm going to read it next after I finish with the thriller I'm currently reading 2117 by Jussi Adler-Olsen. Hopefully that will be no later than Tuesday. One week is more than enough time to spend on a thriller.
Maybe I'll see you then.