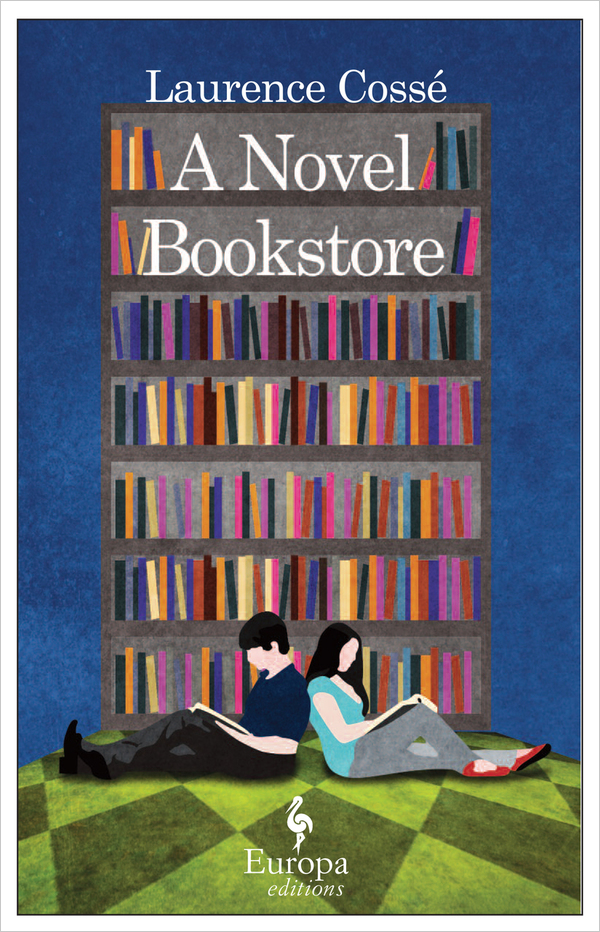 This is the most pornographic book I've read all year.
My definition of pornography is probably different from yours.  Pornography offers its viewers a fantasy depiction of something they cannot have, usually a sexual fantasy.  At some point in life, one finds  that Playboy, or Blueboy, or whatever, has been largely replaced with Architectural Digest– pictures of beautiful people give way to pictures of beautiful homes.  Middle-aged pornography.  But at heart, you're still lusting after things you're not going to get.
Some readers fantasize about owning a bookstore devoted to the kinds of books they love, especially readers who've never worked in a bookstore like me.  (My own fantasy bookstore is called Wuthering Heights Books–it carries a wide range of books, arranged geographically by original language, on a wide range of topics but is best known for it's section devoted to books by and about the Brontes.)  Most of us will never work in our fantasy bookstore, let alone own it.  Frankly, we're lucky if we're able to shop in it now and then.
So, under my definition of the term, A Novel Bookstore by Laurence Cosse is the most pornographic book I've read all year.
In the novel's opening scenes, Ivan and Francesca meet in an little known bookstore in an Alpine resort town.  Ivan runs the store which he stocks with the novels he admires instead of the current best sellers.  While his sales never amount to much, he does develop  devoted followings who seek him out in between runs on the ski slopes to ask if he has discovered anyone new they should be reading.
When Ivan is eventually fired in favor of someone who will stock best-sellers, he and Francesca, one of his more devoted customers, join forces to open up their dream bookstore,  The Good Novel, which will not only sell just novels, it will sell just "good novels."  The rest of the book describes how the two set up and run their bookstore in spite of a publishing establishment that is not only against them but apparently willing to resort to violence to stop them if necessary.
I don't know if Ms. Cosse has ever worked in a bookstore, but reality is beside the point in A Novel Bookstore.  The  day to day operation of The Good Novel is of interest because it is a fantasy.  We don't care how real bookstores are run; we want to know how our dream bookstore would work.  Francesca and Ivan allow Ms. Cosse to give her own book snobbery free reign.  The two select a committee of eight authors whom they admire. This committee will operate in secret, the eight do not even know who the other members are, to select 600 novels each.  Their combined lists form the initial stock offered for sale at  The Good Novel and is added to each year as new books come out and as the committee finds unfamiliar titles they deem worthy.
Rival bookstore chains and jilted authors set out to sabotage The Good Novel from the start, but enough readers find the store to make it a hit.  That's it's located in Paris helps both the store and the book's readers.  Isn't your fantasy bookstore in Paris?
A Novel Bookstore is a novel, and there is enough romance and mystery to make up an engaging plot, but I was most interested in the operation of the bookstore.  It was nice to find out who really loved who and all, but things like store's initial advertising campaign interested me much  more.  It's best bit, a full page ad featuring
a background of the type of Restoration painting that is often too hastily described as 'a minor oil': a patch of Roman countryside with a Tilbury briskly trotting by and in it's window you would recognize, if you had any literary background at all, the profile of Stendhal

" with the words "

All the books no one is talking about

"
across the front.
All right, I'm a bit of a snob, but not enough of one that I didn't have to look up
Tilbury
.  It's a type of carriage with one seat and two large wheels.  So, if you're someone drawn to the books "no one is talking about,"
A Novel Bookstore
may bring you more pleasure than a year's subscription to Architectural Digest.
Since I first ran this review on my old blog, Ready When You Are, C.B. back in August of 2011, I have discovered that Laurence Cosse is a woman. I have changed the pronouns above to correct this error. I really should look these things up before I press 'publish'.