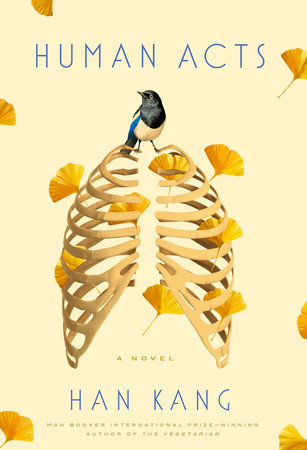 I suppose I'm like most Americans in that I know little of Korea's history.  We know the war, at least the version of it we saw on television's M*A*S*H, and the Korean miracle–the economic powerhouse South Korea has become.  But anything in between, certainly the dark chapters many South Korean's would like to keep buried, we don't know.
This has begun to rapidly change lately, for me in part because of Korean literature like Shin Kyung-sook's wonderful novel Please Look After Mom and Han Kang's equally wonderful book The Vegetarian. Add to this list Han Kang's new novel Human Acts, translated by Deborah Smith, which sheds light on the Gwangju Democratic Uprising and the massacre that followed.
Never heard of it?  Me either. But don't let that stand in your way.
Like The Vegetarian, the story in Human Acts is focused on a character we never get to see first hand or through a first-person narrative.  Here that character is a middle-school boy Dong-ho who is killed in the aftermath of the uprising when hundreds of protesters were massacred by South Korea's military in the city of Gwangju.  Dong-ho should not have been there.  He was too young, the youngest among the protesters and the youngest of those killed.  Those who knew him, and a few others who simply saw his photograph afterwards, tell their stories through a series of narratives–first, second and third person by the way.
Human Acts shattered some of my illusions about South Korea.  I did not know that at least up until the 1980's when the massacre took place that South Korea was a full-fledged military dictatorship rivaling North Korea in its oppression of free speech and free assembly and the use of torture to ensure compliance with the state.
One thing I admired about Human Acts was the portrayal of torture's aftermath, the way it affects victims for the remainder of their lives.  There is no escaping the fact that it's value does not lie in gathering information but in suppressing dissent.
This is the second time Han Kang has kept her readers from direct contact with the central character of her novel.  In both The Vegetarian and Human Acts the reader circles around the character we are most interested in.  We hear from those who know Dong-ho slightly and those who knew him well, but just as it was with Yeong-hye in The Vegetarian we never hear from Dong-ho directly nor do we ever witness him alone.  This frustrates many readers but its a device at least as old as Emily Bronte's Wuthering Heights wherein we never once witness Catherine and Heathcliff unfiltered through the eyes of someone else.  Theirs is a great romance that the reader never gets to see first hand as neither character is ever presented except through someone else's first person narration.
What is Han Kang up to in her books?  I think this could make for an excellent book club discussion or perhaps a paper for a graduate seminar.  Does not seeing the central character first hand make it more possible for the reader to insert whomever we want to, or need to, into that role? If we knew exactly who that character was, would we be more or less likely to identify with that character or to identify that character with someone we care about outside of the book.
While Shin Kyung-sook follows this structure for most of Please Look After Mom, she does give the title character a portion of the book–the reader does see a bit of what happened to the vanished mother.  Her book is no less memorable or moving for doing so.
I will say that I found this worked better in The Vegetarian than it does in Human Acts.  It may be that there were too many different points of view in Human Acts while there were just three in The Vegetarian.  Han Kang has a wider ranging thesis in Human Acts–the personal story of Dong-ho, the suppressed history of the uprising and the massacre that followed, the effects of torture, the collective societal denial of history.  Dong-ho becomes a tool for bringing all of this together while Yeong-hye, in The Vegetarian, always remained a person in the reader's mind.  It was Yeong-hye who haunted me after finishing The Vegetarian. It's history that haunts me after reading Human Acts.  One book asks how this could happen to one woman, while the other asks how this could happen to us all.
If you have not read Han Kang yet, you really should.  She's very good; so is Shin Kyung-sook.  But, in the end I'd recommend The Vegetarian over Human Acts.