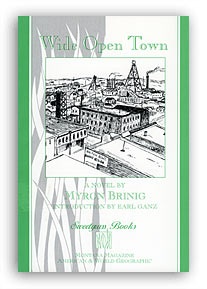 So I found this wonderful book that no one has heard of.  Wide Open Town (1931) by Myron Brinig has long been out of print.  While he was a best seller in his time, Myron Brinig out-lived his own work.  Wide Open Town, one of his novels about miners in Butte, Montana, was reprinted shortly after his death but hasn't recaptured much of its fame.  The book could be found in the gift shop of the Montana Historical Society in Butte where I bought my copy a few years ago.
I was there on an NEH grant, studying the history of mining in Montana with a group of teachers from throughout the country.  I think I'm the only one who bought Wide Open Town after hearing about it during a presentation on Montana literature.  I didn't read it until this weekend.
I loved it.  I loved it for all the reasons why I loved John Fante's Ask the Dust and  I'm now on a mini-crusade to win more readers for Myron Brining.  I'm publishing an excerpt here today in the hopes that someone will read it and order their own copy.  I'll post a full review tomorrow.
Here's an excerpt describing the red light district in 1910 Butte, Montana.
So they came to the Red Light dives in East Galena Street where the Daughters of Light gave the Sons of the Pit their pleasures. It was a time when everything was wide open, bawdy houses, dance halls, gambling dens, hop houses.  The Line comprised several large brick houses each with about twenty rooms.  In these houses lived the girls who were making more money because they were younger and prettier.  In the adjoining small wooden shacks lived the girls who were older and did not make out so well.  These shacks were called cribs.

The street in Silver Bow was always alive with voices, sounds of the music, pianolas rattling off mechanical tunes and phonographs grinding out metallic discords. Along the wooden sidewalks was a continuous promenade of miners in overalls and hobnailed shoes, girls in the latest fashions from Market Street in San Francisco and State Street in Chicago, hags who were no longer wanted in the cribs and who worked for Chinese laundry men and dope peddlers in the next block, gamblers in frock coats, red corduroy vests and stock ties, and, here and there, a trembling adolescent boy who had escaped his mother's apron strings and was visiting the Line for the first time.

Since it was Saturday night, the Line was at its busiest; every window bulged with light, so that the glass was scarcely capable of maintaining its straightness and hardness. The music is fierce, growing fiercer. Tunes jostle upon one another, black clouds of notes like incoherent sheep being driven down turbulent black lanes.  The air is electric, quivering under the brash arc lights at the intersections of streets. Patrol wagons dash along the street, now stopping before this crib, now before another. Usually it is a man who is hustled out from one of these cribs, fighting the policemen with fists and teeth.  But sometimes it is a women her hair a tangle of licentiousness, her slanting wet mouth spitting forth a venom of vituperations.  Sometimes  a man has been knifed in one of the gambling dens; he is carried into an ambulance, his shirt over the ribs sticky with blood.  Fierce. Fiercer. The moon hurls a spray of white flames over the town. The music grows more tortured.  Primitive America is at play.

But in the very next block, where the Chinese live, it is quiet with a soft, sinister somnolence. The shacks are as still as tombs and the lamps that hang from the ceilings are dim.  Some of them are lamps with blue flames that catch the black sateen jackets of the Chinese and make them shimmer with a purple sheen.  They are smoking in there, long pipes of opium.  They peddle dope in there.  Look in that corner, a pale girl drugged with opium. What sweet dreams she must be riding languidly.  In that bunk over there, next to the wall, a tall loosely jointed youth off a farm is dreaming.  His face is soft and happy, the airless happiness of men in artificial flight. His face is soft and happy, the airless happiness of men in artificial flight.  All week he has driven a plow through the hard, sun-sticken Montana earth and now he lopes gracefully after wreathed dreams, white diaphanous maidens strewing flowers before his footstep….

But the Line is fierce, fierce, alive, alive.  Men and women are as alive and staccato as drum beats in the jungle, in an Indian camp.  Women shriek, sob and scream out a sequence of scrofulous words.  men drink and howl and sing.  Men are in combat with one another.  They leap like sly animals or they wrestle like grizzlies. They breathe hard in a passion of lust or anger. A gleam of knives, blue steel turned to blinding silver, a splash of blood. A scream that rips the incandescent air. The beat of life is swift but rhythmical, a tom-tom in the dark African jungle, pounding away under a mysterious moon.  Life-life.  Life-life, Life-life.  Life-life, swift in time, always in time.  You pays your money and you takes your choices of the dizzy blondes, the bromide brunettes, the rampaging red heads. the red heads are steep life and breath-taking life.  The streets run with torrents of passion.

One hundred years ago did Lewis and Clark stop here in East Galena Street, and did they look upon red savages dancing naked under a tough leathery moon? When Indians dance, my heart leaps out to them, as they jump and subside into the choking dust. Now white men are dancing in East Galena Street with the same swift release of sobriety. Go to it, boys and gals, fierce, fierce, up and down, swing your partner round an' round, to the beats of your heart, the drums of your hearts under your leathery skin.  Go to it now while the night is still young…young…young…young.